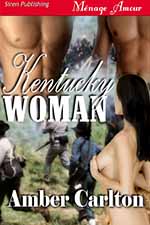 In a time of brother against brother, it's easier for Jessie to give her body to two men than trust either one.
Kentucky Woman
Categories: Menage Amour: Erotic Historical Menage a Trois Romance, M/F/M
4 Stars:- "This Civil War novel is laced with humor, packed with action and loaded with sex of the menage variety. Carlton's characters make the pages come alive and her plotting is impeccable.
Jessie McGee finds her home in a shambles and her father dead. Masquerading as a boy, she heads out with her younger brother to find the workers that disappeared from her farm, where she runs a stop for the Underground Railroad.
Cutter Raines and Billy Marlow are spies for Lincoln. Posing as bounty hunters, they run into Jessie and soon unmask her disguise. Using sex as currency, she hires them to retrieve her property. Unbeknownst to her, their destination is the same; they plan to use her as bait to retrieve possessions of their own. They help her restore her farm and run her way station, but what will happen when she learns of their deception?
Reviewed by:
Donna M. Brown
5 Stars:- "This is erotic romance taken to an all time high! During the Confederate war, the South was a battlefield for the passionate. This story manages to combine every element of the Confederate war into an exciting love story entwined in a web of lies, secrets, and happy ever after. I laughed, cried and celebrated every achievement with these characters. Jessie is a wonderful character. Strong, smart but vulnerable at times- she was very real and someone I would have been proud to call a friend. Cutter Raines and Billy Marlow will blow your mind! These two have such depth and so many layers to their characters that I found myself falling in love with them more and more throughout. Martin is twelve but I found him charming in his boyish ways. There were other characters, so many in fact I couldn't begin to name them all, but they made this story come to life. The sexual dynamics started as a bargain and ended up becoming the sweetest reward. Hot, heavy and sometimes a little kinky but always remained secondary to the storyline. By far, one of the best reads of the year! Add Kentucky Woman to your Christmas list, you won't be disappointed!" --Stefani Clayton, Just Erotic Romance
5 Stars: "Amber Carlton is a brilliant writer. She has captured a bit of history in her book Kentucky Woman. The plot is fascinating. I could not put this book down. Carlton successfully weaves the threads of history with drama, humor, and romance to create a tapestry sure to please fans of romantica. The characters are fascinating and come to life on the pages. The reader should be aware that this book contains m/f/m scenes. Don't miss this one." -- Anne Boling, Review Your Book
4 CHERRIES: "In this Civil War-Era historical, three spirited individuals find love and healing with each other amid danger and betrayal. This was a highly erotic and fascinating story about three people each with their own secrets who learn to love and trust one another. The author did a wonderful job of giving these characters each a distinct personality and motivation for pursuing this unconventional relationship. I enjoyed each new revelation about these fascinating characters and there is definitely more to each of them than what meets the eye. Although at first I had my doubts about the threesome and whether or not I could buy their relationship considering their initial bargain, I really enjoyed watching as it developed and became believable. In addition to the fascinating relationship, there is also an intricate plot involving murder, betrayal, and the slave trade. Each new revelation added to the story and helped keep the story interesting. There were a few twists that I never saw coming, but that really enhanced the story. It was obvious that the author did some research into the time period and the area in which the story is set. I enjoyed the little historical names and facts interspersed throughout the story. They gave the story an authentic feel and helped to make the setting and time period believable. Overall, Kentucky Woman is a fascinating erotic historical that I found very entertaining." -- Lilac, Whipped Cream Reviews