Categories: Erotic Romance, fairy tales, contemporary romance, paranormal romance, soul mates, Dakota Cassidy, Jasmine Haynes, Leigh Wyndfield, Vanessa Hart
Seven hot tales under the cover. A few will make you laugh. Others will make you check the locks. But they'll all warm up the night and make you reach for that special someone when you turn out the lights. There's no question, these ain't your mama's bedtime stories.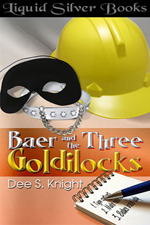 Categories: Erotic Romance, adult fairy tale, contemporary romance, bondage
Susan Baer is a successful business woman and founder of Baer Hugs, health centers for women, but she longs to find her special person. Sadly, there are no prospects in sight. Suddenly, three men come into her life. All successful, all gorgeous, all blond. And, all of them pose their own unique problems. One is too rough and hard in his treatment, one is too soft and wants her to take charge. The last is…gay? So Susan thinks. *sigh* Can any of them turn out to be "just right?"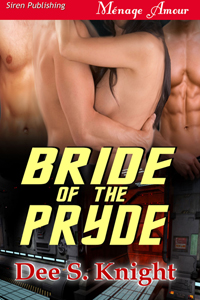 Categories: Erotic Romance, futuristic romance, menage
Three sexy spaceship commanders and a brassy cyberbot have to fight hard to convince DAT agent Susan McAllister that they can protect her. It takes much less effort to get her into their beds. It's no surprise when Susan discovers that being a member of the Pryde's crew has unexpected, lasting benefits.
Categories: Erotic Romance, adult fairy tale, sex in the office
One evening, in a land far away, a wife spins a fairy tale for the amusement of her husband. It's not your typical child's tale, of course, but an updated, more adult version of the classic, Cinderella.
All of the principals are present. Charlotte Gambrell immediately recognizes Prince Charming when she meets her boss, James Clarkson. But then, photographer Cooper Hunt agrees to perform Fairy Godfather duties, revealing to the world what he's already discovered--that Charlotte is an exquisite beauty. By the time Charlotte arrives at the ball she's confused. What makes a prince, a Prince. More importantly, how can she make sure her life ends "happily ever after"?
Categories: Erotic Romance, Firefighter, ghost, paranormal, contemporary romance, soul mates
Firefighter Harm Reynolds knows he can handle the current union negotiations. Then he meets his opponent, assistant mayor Beth Edwards, nicknamed the Ice Queen. Nothing could suit the woman less. Arson, injury and betrayal end the contract talks. Can they also stop the five-alarm passion burning up the bedroom?
Categories: Erotic Romance, Tornado, texas, ranch, lawyer, unlikely romance
A bad marriage is like a fierce thunderstorm on a fragile field of wheat. Will a proud Texas cowboy and a stubborn Boston-bred lawyer find shelter from a real summer storm long enough to rebuild their love?
Categories: Erotic Romance, San Francisco, secret lover, boss, passion, desire, office romance, contemporary romance
Austin Gardner leads a safe, lonely life in San Francisco. That ends when she experiences an amazing, sexy, anonymous encounter on a crowded city bus. Her boss, Tyler Birch, has been in love with Austin for years and has finally decided to let her know. When he finds himself pressed against her on an evening commute, he can't pass up the opportunity to touch her. And when Austin responds, he becomes her anonymous lover. But what good can come from Austin's falling in love with two men: her hunky boss Tyler, and her sexy secret lover?
Categories: Erotic Romance, contemporary romance, fantasy, humor, soul mates
When Jack and Sally meet one weekend in Nags Head, neither are prepared for the instantaneous attraction they feel. It makes both of them nervous, and while it was wonderful, they feel relief when the weekend ends—they'd shared too much passion too quickly. Months later, in a city on the opposite side of the state, Geneva Jameson is shocked to meet Kyle McCaislin, the cousin she'd never known—and the man she'd known as Jack. Sparks fly between the two as they try to deal with their quandary, not knowing the many surprises before them. Will their hearts discover what their minds already know? That in passion as in life, things aren't always what they seem.
Categories: Erotic Romance, paranormal, psychic, sheriff, contemporary romance, soul mates
A peaceful South Carolina lake, swaying pines, a bungalow that inspires fear, and a two-year-old mystery. Cassandra knows from her dreams that she needs Dan's help and is willing to do anything to get it. Can Dan sort through the pieces of the puzzle while they experience sizzling passion? Fight as he might, Dan can't resist Cassandra or her mission. But can he truly become the man she needs, the man of her dreams?
Categories: Erotic Romance, voyeurism, architect, contemporary romance, soul mates
When Brett Jacobsen returns to Richmond to build an office complex, he knows this is his chance to design what he wants, instead of what someone else dictates. He has the land, the vision and the clients, and he vows nothing will stop him. But he doesn't count on Linda Anderson and the promise she made her grandfather to keep the land free from development. Brett has his dream, Linda her promise. Are either of them willing to compromise for love?
Categories: Erotic Romance, haunted house, paranormal, feminist, contemporary romance, soul mates
Margaret Amis-Hollings makes a temporary move to River Peace, an old family home in Virginia, where the resident spirit mistakes her for his long lost soul mate. When Margaret meets Aaron, a descendant of the spirit, their attraction is undeniable, but Margaret is only looking for a respite while she restarts her failing career. Aaron's family has always believed River Peace is theirs and he sees Margaret as a way to recoup the loss. Modern property rights or souls reaching across the centuries. Has too much time and too many events passed for Aaron and Margaret to fulfill their destinies, or is love meant to be the victor?
Categories: Erotic Romance, new years, resolutions, contemporary romance, anthologies, soul mates, Jasmine Haynes, Leigh Wyndfield, Vanessa Hart
It's time for a change! Join four determined women as they take steps to change their lives … and find unexpected love along the way. Resolutions are something we all make, but only a few of us actually see them come true. Passion fills the pages of these great contemporary romances from authors Dee S. Knight, Jasmine Haynes, Leigh Wyndfield, and Vanessa Hart.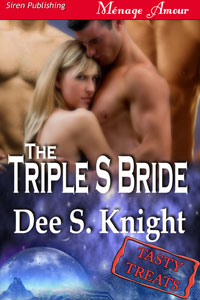 Categories: Erotic Romance, spaceship, futuristic, alien lifeform, futuristic romance, soul mates, menage
Sabina Volt escapes the cruelty of her fiancé by running to C8282 and a marriage contract with a stranger. She doesn't know that she's marrying three men, the Sheridan brothers, or that they will use any means necessary to protect her—if she can bring herself to trust them. It doesn't take long to discover that three sexy men aren't the only dangerous things on her new world.
Categories: Erotic Romance, magic, fantasies, paranormal romance, Francis Drake
A mysterious shop appears in town for one reason: to bring the spice of passion and the thrill of love to one special person. Magic is in more than the item purchased—it's in the heart of the buyer, often hidden, usually surprising. And after enchantment takes hold? The store fades from sight and memory, only to reappear somewhere else. Maybe in your town….